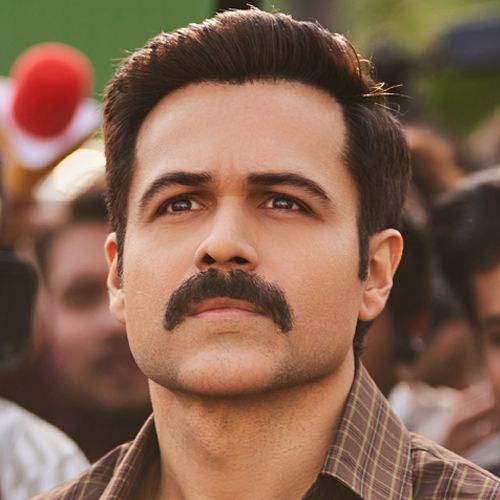 Some content courtesy of Wikipedia.
Born
March 24, 1979
Introduction
In his early films Emraan, was well known for his kissing scenes, which earned him the title serial kisser. However, when this suave and sophisticated actor began to turn movies into blockbusters, the title soon changed to Hit Maker.
Early Life
Born to a Muslim father Anwar Hashmi and Catholic mother, Mahira Hashmi, Emraan Anwar Hashmi started acting in commercials for products like Rasna and Goodnight at the age of five. His father changed his name from Anwar Hashmi to Farhaan Hashmi, because he thought the extra 'a' brought him numerological benefit. Emraan is nephew to producer - director Mahesh Bhatt while actor and director Pooja Bhatt is one of his cousins. Emraan graduated from Sydenham College, Mumbai where he had taken up graphics and animation studies.
While he was working as an assistant director with Vikram Bhatt for the movie Raaz and Kasoor, Mahesh Bhatt noticed him and asked him to take up acting.
Entry into Bollywood
Emraan's first movie was Footpath (2003) which did not fare well at the Box office. The next film, the erotic thriller Murder (2004), brought him some fame and glory. The film was declared a super hit and everyone noticed his good looks and great performance. The film also grossed Rs 250 million (US$ 4.2 million) making it a financial success.
Emraan next appeared in 2004 in the Anurag Basu movie Tumsa Nahin Dekha, however Basu was diagnosed with cancer during the shoot of the film leaving Mukesh Bhatt to complete the film. Although the film fared poorly at the box office, recognition for Emraan continued to grow as BBC online noted that 'he was becoming fabulous with every film.' By 2005, Emraan acted in the film Zeher, wherein he portrayed a chief of police, got positive reviews and the movie was a moderate success grossing Rs. 100 million. His next two films Aashiq Banaya Aapne and the thriller Chocolate did not fare well at the box office. His next film Kalyug (2005), wherein he played a supporting role saw moderate success, but he got positive reviews from the critics.
In 2006, he acted in the thriller Aksar that saw commercial success but got negative reviews from critics. In the same year, he appeared in the movie Gangster that grossed over Rs 190 million and Emraan got positive reviews for playing the role of an undercover detective. This also earned Emraan his first Filmfare nomination for the Best Performance in a Negative Role. The movie's soundtrack featuring songs like Tu Hi Meri Shab Hai, Bheegi Bheegi and Yaa Ali became chart busters within a week of their release.
Incidentally, ever since he started acting in films from Murder to Gangster he was involved in kissing scenes in all his films and thus dubbed as Serial Kisser. The year 2006 saw Emraan getting married and he stood by his wife's request of no more on screen kissing.
In the year 2007, he acted in three movies beginning with the comedy Good Boy, Bad Boy, which fared poorly at the box office. Next up was the romantic film Awarapan that saw moderate success due to all singers in the movie being from Pakistan and had chartbusting numbers like Mahiya and To Phir Aao.8 Next up was the thriller called The Train, which under-performed at the box office.
In 2008, he acted in only one movie Jannat, which was a huge success with revenues grossing Rs 420 million. Critics hailed Emraan's performance for his ability to display a gamut of emotions with complete aplomb. The next year, Emraan acted in the supernatural horror film Raaz-The Mystery Continues which was a big hit and grossed over Rs 340 million domestically. At this point, the Times of India quoted him as being the next Collin Farrell of Indian Cinema. His next successful film, Once Upon A Time In Mumbai where he acted as a gangster, won positive reviews from critics and a Filmfare nomination for Best Supporting Actor. The newspaper DNA described his performance as top class.
His next blockbuster film was the thriller Murder 2 (2011) which earned domestic revenue of over Rs. 476 million and saw Emraan winning a Stardust Award for Best Actor in the thriller/ action category. Up next in 2011, was The Dirty Picture wherein Emraan played the role of the narrator with the film grossing over Rs 1.14 billion globally. By 2012, his notable films included Jannat 2 which had hit songs like Tujhe Sochta Hu, Rab Ka Shukrana and Tu Hi Mera. In the same year, Emraan won much acclaim for the film Raaz 3D.
The year 2013 saw Emraan acting in films like Ek Thi Daayan and Shanghai. His upcoming films include Raja, Ungli, White Lies and Mr X.