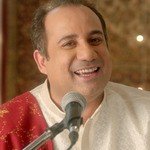 Rahat Fateh Ali Khan
Singer ∙ 378,295 Followers
Introduction
This famous qawwali singer has been enchanting the hearts and minds of millions, ever since his song Mann Ki Lagan from the 2003 movie Paap, took to the airwaves. His 2014 track Zaroori tha from his album Back 2 Love continues to break new barriers.
Early Years
Rahat Fateh Ali Khan was born into a family of Qawwals in Faisalabad (then known as Lyallpur) in Pakistan. His father Ustad Farrukh Fateh Ali Khan is a well known Qawwal vocalist and harmonium player while his uncle was the renowned Nusrat Fateh Ali Khan. Rahat could sing by the age of three under the tutelage of his father. By the age of seven, his uncle Nusrat Fateh Ali Khan took over his training in classical music and by the age of nine, he gave his first public performance on the death anniversary of his grandfather, the legendary Fateh Ali Khan. He soon became a part of his uncle's Qawwali group, which toured worldwide. Rahat performed his first solo ghazal Mukh Tera Sohneya Sharab Nalon Changa Ae in a concert at Birmingham on July 27, 1985. In the same year, he performed at solo song at the Harrow Leisure Center entitled Gin Gin Taare Lang Gaiyaan Rattaan. While doing subordinate roles with his uncle, Rahat, in conjunction with Eddie Vedder of the Rock Band Pearl Jam contributed to the soundtrack of the Hollywood film Dead Man Walking in 1995. He went on to work with American composer James Horner on the soundtrack of the Four Feathers in 2002.
Lollywood Years
His entry into Lollywood(Pakistan Music Industry based out of Lahore) came with songs like Kisi Roz Milo Hamein Shaam Dhaley for the film Mard Jeenay Nahi Detay in 1997. His other Lollywood film tracks include Tere Yaad Verdaya Paindey Hain for the 1998 film Harjaal, Haal Da Mehram from the 2011 film Love Mein Ghum, Gunaghar from the 2011 movie Bhai Log, among others. His moment of glory came in Lollywood when he won the 14th London Asian Film Festival for The Best Music Talent 2012 for the song Koi Dil Mein in the film Tamanna.
Entry into Bollywood
He stormed into Bollywood in 2003 with the songs Laal (Alaap) and Mann Ki Lagan in the film Paap. His next few film songs include Maine Use Dekha Hai and Kisi Roz Milo Hamein Shaam Dhaley from the 2004 film Ishq Qayamat, Jia Dhadak Dhadak from the 2005 film Kalyug and Naina from the 2006 film Omkara. These were followed by songs like Bol Na Halke Halke, from Jhoom Barabar Jhoom (2007), Jag Soona Soona Lage from Om Shanti Om (2007). Soon, his numbers started getting good reviews from tracks like Main Jahaan Rahoon in Namaste London (2007), O Re Piya from Aaja Nachle (2007), and the much remembered Teri Ore from Singh Is Kinng (2008). Rahat made a special appearance in the 2008 film Dil Kabaddi, singing Zindagi Ye. His awards and accolades started coming in from the song Ajj Din Chadheya for the film Love Aaj Kal (2009) which won a Star Screen Award for Best Male Playback (2010) and was nominated for a Filmfare Award for Best Male Playback Singer. His songs in Bollywood movies continued with scintillating numbers like Bichdann in Son of Sardar, Rabba in Burraaahh, and Dagabaaz Re in Dabanng 2, all in 2012. In 2013, his song list included Sawan Bairi from the film Commando, Maula from the movie Maazii and the well-received Mere Bina Tu from Phata Poster Nikla Hero. His songs continue with Dil Ka Mizaj Ishqiya and Zabaan Jale Hai from Dedh Ishqiya and Shamein from the movie Khwaabb in 2014. Rahat Fateh Ali Khan's latest non-film album Back 2 Love, released on June 9 2014 features the song Zaroori Tha which has crossed the coveted 1.3 million views on Vevo/You Tube within 5 days of its release. His other recent albums include Chandigarh Da Chaska in 2014, and earlier Bina Mahi and Khooni Akhiyan in 2012.
Awards
• Best Singer Male for Zinda Bhaag at the 1st ARY Film Awards (2012), • Award for Best Singer Male at the 4th Pakistan Media Awards (2013), • International Artist of the Decade from UK Asian Music Awards (2012), • Best Selling Download at the UK Asian Music Awards for the song Teri Meri for the film Bodyguard (2012), • International Artist of the Decade at the UK Asian Music Awards (2012), • Award for Best Male Playback Singer at the Filmfare Awards (2011), • Award for Best Male Playback at the Screen Awards (2011, 2010), • Best Sound Track (OST) Award for Bharday Jholi on The Musik Award (2008) Children Rahat has two daughters, Maheen Khan and Filza Khan, and a son, Shazmaan Khan.
Award Winning Spree
His winning spree continued when he won the Mirchi Music Awards for the Best song in Sufi Tradition for Sajda in My Name is Khan (2010), which also won a Filmfare award nomination. In the same year, his song Dil To Bachcha Hai Ji from the film Isqiya won both a Filmfare and Star Screen and Filmfare award for best Male Playback Singing. Soon, Rahat received a host of awards for the song Tere Mast Mast Do Nain in the 2010 film Dabangg, including BIG Star Entertainment Awards Best Singer (2010), Mirchi Music Awards Best Male Vocalist (2011), IIFA Awards Best Male Vocalist (2011), and Apsara Award for Best Male Playback Singer (2011). The year 2010 was very eventful for Rahat as he also won the Best International Act at the UK Asian Music Awards. Next up, his song Teri Meri from the 2011 film Bodyguard was nominated for the Filmfare Award. His Punjabi song Akhiyan from the 2012 film Mirza the Untold Story, won the PTC Punjabi Film Awards for Best Playback Singer.
Trivia
Here is a peek into the life and views of this celebrated Qawwali singer, whose vocals also featured in Mel Gibson's movie soundtrack of the 2011 movie, Apocalypto. • He denies rumours that he left his wife and married a model called Falak. He says he does not even know who Falak is or having ever met her in his life, further clarifying that he was disturbed and angry too as his was a love marriage (with Nida) and he loved her too much to marry anybody else. • Speaking about music, songs and simplicity he says, "Hamara odna-bichhona music hai" (music is our life) and their day begins with music and end with it. He says good melodious music has returned, and that he loved the music of Aashiqui 2 (2013) which had many beautiful duets. He stressed on the need to keep the composition simple and he never over expresses himself vocally when not required as it may shake the backbone of a simple song and ruin it. • Giving his views on the genre of sufi and sufi rock that have been loosely attributed to label his music Rahat says that Sufi music has no boundaries and is limitless. However, it was people's knowledge that was limited. He states that Sufiana can be performed with ragas and thumris and in many other styles. • Talking about his favourite singers and artists, he says he liked Arijit Singh and Shreya Ghoshal and says he is a big fan of Katrina Kaif and would love to compose for her.