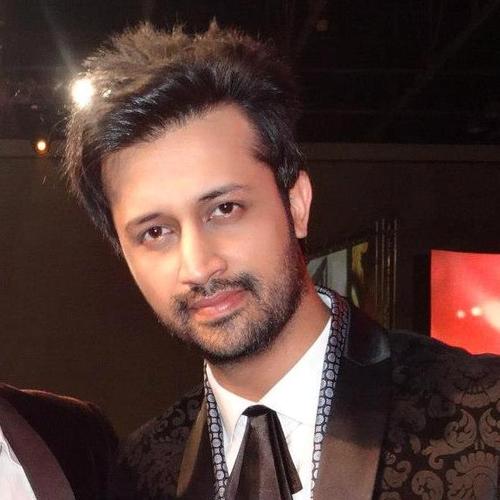 Some content courtesy of Wikipedia.
Born
March 12, 1983
Introduction
Atif Aslam is a pop singer and rock star, with numerous numbers like Bheegi Yaadein, Ehsaas, Mahi Ve, Ankhon Sey along with the title track "Jalpari" being major hits across the subcontinent. His Bollywood film tracks like Woh Lamhe, Tere Hone Laga Hoon, Le Ja Tu Mujhe, Piya O Re Piya and Jeene Laga Hoon has stolen every music lover's heart across India and the world with his characteristic 'belting out' type of voice.
Early Life
Atif Aslam was born in Wazirabad, Pakistan on March 12th, 1983. During his college days in Lahore Atif Aslam released his first single Aadat, which went viral in a couple of weeks. His first album was Jal Pari, which was released on July 17 2004, in which several numbers like Bheegi Yaadein, Ehsaas, Mahi Ve, Ankhon Sey along with the title track Jalpari went on to become major hits and charted across countries in the subcontinent. His next two albums like Doorie and Meri Kahani sold about 9 million units globally.
Career
• Bollywood Hits
His rise to fame in Bollywood music was meteoric, starting with Woh Lamhe in the 2005 fillm Zeher and Aadat in the film called Kalyug in the same year. His unmistakable voice resurfaced the next year in the film Bas Ek Pal in the song Tere Bin. Next up was his Pehli Nazar Mein in Race. Soon, he collaborated with Alka Yagnik in Bakhuda Tumhi Ho in the film Kismat Konnection, and then with Alisha Chinoy for the number Tera Hone Laga Hoon in the Film Ajab Prem Ki Ghazab Kahani, which also featured one of his other hits, Tu Jaane Naa.
By 2010, several of his songs made it into Bollywood films like O Mere Khuda with Garima Jhingoon, Tere Liye with Shreya Ghosal, Kaun Hoon Main and Aa Bhi Ja Sanam in the movie Prince. In the last two songs, he made a special appearance as himself. He then made his debut appearance as an actor in the Urdu film Bol. His songs continued with Le Ja Tu Mujhe in F.A.L.T.U in 2011, Piya O Re Piya with Shreya Ghosal, Tu Mohabbat Hai with Monali Thakur and Priya Panchal in the film Tere Naal Love Ho Gayain 2012. This was followed up with Aa Bhi Ja Mere Mehermaan, Hai Na with Priya Panchal, Dil Najaane Kyun with Anushka Manchanda in 2012 film, Jayantha Bhai Ki Love Story. 2013 saw him make inroads with Sunidhi Chauhan with the numbers Be Intehaan, and then Allah Duhai Hai with Vishal Dadlani and Anushka Manchanda in the Film Race 2. After this, came his other numbers like Jeene Laga Hoon with Shreya Ghosal in the movie Ramaiya Vastavaiya. His hits continue with Main Rang Sharbaton Ka with Chinmayi Sripada in the film Phata Poster Nikla Hero .
• Coke Studio( Pakistan)
No doubt much of his success came from Coke Studio. Here, some of his major hits include Jal Pari (reprise), Wasta E Pyar Da, Mai Ni (reprise), Kinara (reprise with Ustad Riaz Ali Khan), Humain Kya Hua, Charkha Nolakha (with Qayaas) in 2009. In 2012, he sang Rabba Sacheya (reprise) and Dholna, followed up with Channa in 2013.
• Hollywood Film Songs
In the 2005 Hollywood movie Man Push Cart, he recorded songs like: Aadat, Ehsaas and Yakeen. In Mira Nair's 2013 film, The Reluctant Fundamentalist, his songs include Mori Araj Suno and Bol Ke Lab Azaad Hain. Two more of his songs, Doorie and Maula have also been used for the soundtrack of the Hindi version La mujer di hermano which was directed by Ricardo de Montreuil.
• Lollywood Songs and Television
His hit songs in Lollywood came in the Urdu movie Bol wherein he made own debut appearance into films including Hona Tha Pyaar, and Kaho which he sang along with co-singer Hadiqa Kiani. In 2008, he also sang Aas Pass for the Pakistani TV Serial called Mere Paas Paas, once again with Hadiqa Kiani. Atif also appeared in singing talent show called Sur Kshetra which was shot and broadcast from Dubai, where Indian and Pakistani singers competed against each other.
Controversies
A dispute that was in focus was about the release of the song 'Aadat' by the group 'Jal' in 2004. The original song was written by Atif Aslam, Music Sahil & Band and Goher Mumtaz with Atif as the lead singer of Jal. Its film version Juda Hoke bhi was used in the film Kalyug while another version called Zehreeli Raatein was used by KK for the 2005 film Chocolate. Differences arose between Atif and Jal about who held the copyright of the song as it was said that Zahreeli Raatien was not just a different version but an illegal copy from the real version of Aadat.
A major rumour that hit major blogging websites was the death of Atif Aslam due to various reasons. What really seemed to have happened was that Atif had fallen down after a concert in Karachi and was rushed to a nearby hospital which was also a Cancer hospital, prompting such rumours. Another reason for these rumours was that Atif is well known for his Voice Belting technique. 'Belting' is sometimes described as 'high chest voice' but this is technically incorrect and potentially damaging for the voice.
The other bizzare rumour besides his death and throat cancer was that he said he bought the Aadat (album) for INR 6 lakh.
Trivia
• His first ever performance: At the age of 16 his friends took him to a fair where there was a challenge about the bravest playing on stage. His friends called him a sissy, so he went on the stage and sang Pehla nasha, pehla khummar and all his friends went 'wow!'
• His first fees: He still keeps with him a Rs 500 note, which he earned for a college competition at McDonald's.
• His fast bowling passion and family opinion: His family never encouraged him to become a cricketer as they wanted him to be a doctor but instead he became a computer engineer which he did not enjoy. He didn't tell his family when he started singing, they got to learn about it from his friends.
• His Inspiration: Chris Cornell, Jeff Buckley and Nusrat Fateh Ali Khan
• The craziest thing from a fan: Once on his birthday, there were six-seven girls in a car outside his house. When he went outside, they called his name and threw a box full of Jockey underwear.
• His signature rockstar move on stage: The backward bend.