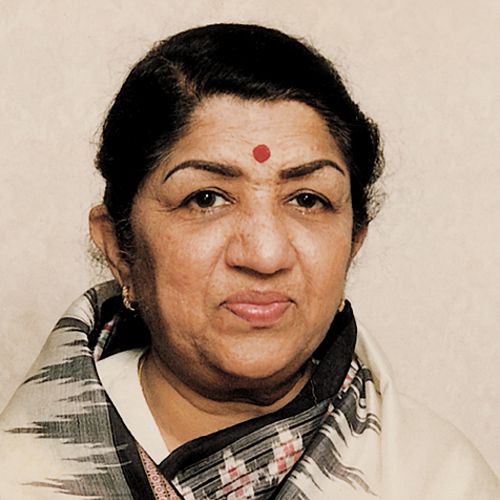 Some content courtesy of Wikipedia.
Born
September 28, 1929
Fondly termed as Didi, the Nightingale of Bollywood and Melody Queen, Lata Mangeshkar has recorded thousands of songs to warm the heart of every Indian the world over. Until her entry in Guinness Book of World Records disappeared in the 1991 edition as the most recorded artist in the world, she had sung no less than 30,000 solo, duet and chorus backed songs in 20 Indian languages (between 1942-1987). Today, the number must have breached the 40,000 mark!
Siblings
3 sisters Asha Bhosle, Usha Mangeshkar, Meena Mangeshkar and 1 brother Hridaynath Mangeshkar.
Early Life
Lata's father, Pandit Deenanath Mangeshkar was a classical singer and theater actor, who had named her Hema at birth, but changed it later to Lata, after one of the female characters in his play called Bhaaw Bandhan. Lata started to act in her father's musical plays at the early age of five.
Although her first song Naachu Ya Gade was for the 1942 Marathi movie Kiti Hasaal, the song was dropped before the final cut was made.
Her first Hindi song was Mata Ek Sapoot Ki Duniya Badal De Tu for the 1943 Marathi film Gajaabhau. She then started taking Hindustani Classical music lessons from Ustad Amanat Ali Khan. She sang Paa Lagoon Kar Jori for Vasant Joglekar's Hindi-language movie Aap Ki Seva Mein (1946). Lata Mangeshkar and her sister Asha, played minor roles in Vinayak's first Hindi-language movie, Badi Maa (1945).
After partition of India, Ustad Amanat Ali Khan migrated to Pakistan, and Lata had to learn classical music from Pandit Tulsidas Sharma, a pupil of Ustad Bade Ghulam Ali Khan with music director Ghulam Haider as her mentor. When producer director Sashadhar Mukherjee of the 1948 movie Shaheed dismissed Lata's voice as 'too thin' Haider retorted saying that soon producers and directors would 'fall at Lata's feet' and 'beg her' to sing in their movies. She soon got her first break in the 1948 film Majboor wherein she sang Dil Mera Tora. Then came her major hit song Aayega Anewaala in the 1949 movie Mahal (1949), in which she also sang a bhajan Maata Tere Charnon Mein.
In the early 1950's, she sang for various music directors like Anil Biswas, Shankar Jaikishan, Naushad Ali, SD Burman, Hemant Kumar, Salil Chowdhury, Kalayanji- Anandji, Khayyam and Madan Mohan among others. She then made her debut song in the Tamil movie with Vanaradham in 1956 (Uran Khotala dubbed in Tamil), wherein she sang Enthan Kannalan in the dubbed version composed by Naushad.
SD Burman had chosen Mangeshkar for his musical scores in films like Sazaa, House No 44 (1955) and Devdas (1955). In Sazaa, her songs were Tum Na Jane Kis Jahan Mein Kho Gaye and Aaja Aaja Tera Intezar Hai 5 while in Devdas her songs included Jise Tu Kabool Karle, Ab Aage Teri Marzi and O Jaan-e-Wale Ruk Ja. 6 After this, a rift developed between Lata and SD and she did not do any songs with him until 1962.
Then came her raga-based songs for Naushad in films like Baiju Bawra, and the 1960 movie Mughal- E- Azam wherein she sang Pyar Kiya To Darna Kya. Later, she performed a duet Ae Chorre Ki Jaat Badi Bewafa with GM Durrani. Shanker- Jaikishan then chose Lata for the film Aah in which she sang numbers like Yeh Shyam Ki Tanhaiyan, Sunte The Naam and Raja Ki Aayegi Baaraat along with Shailendra.
She had an argument with Mohammed Rafi over royalty payment terms that got heated for the song Tasveer Teri Dil Mein for 1961 film Maya, and it was music director Jaikishan who negotiated reconciliation.
Her Rise in Popularity and Filmfare Awards
Lata won her Filmfare Award for Best Female Playback Singer for Aaja Re Pardesi (composed by Salil Chouwdhury) in the1958 film Madhumati .
By 1961, she had also recorded two bhajans, Allah Tero Naam and Prabhu Tero Naam. Soon after, she received her second Filmfare Award for the song Kahin Deep Jale Kahin Dil for the 1962 movie Bees Saal Baad composed by Hemant Kumar. In 1963, her song Aye Mere Watan Ke Logo against the backdrop the Indo-China war was said to have brought tears to the then Prime Minister Jawaharlal Nehru's eyes.
Then came her songs for SD Burman's first film Chhote Nawab in 1963, followed by songs for Bhoot Bangla, Pati Patni , Baharon Ke Sapne, and Abhilasha in 1969 . Her popular songs included Aaj Phir Jeene Ki Tamanna Hai, Gata Rahe Mera Dil (with Kishore Kumar) and Piya Tose from the 1965 movie Guide and Hothon Pe Aisi Baat from the 1967 movie Jewel Thief. In this period, her other hit songs included Aap Ki Nazron Ne Samjha composed by Madan Mohan from the 1962 movie Anpadh, Lag Ja Gale, and Naina Barse Rim Jhim from the 1964 movie Woh Kaun Thi.
Other popular songs included Woh Chup Rahen To from Jahan Ara, Tu Jahan Jahan Chalega from the 1966 film Mera Saaya and Teri Ankhon Ke Siva from the 1969 movie Chirag. With the duo Laxmikant Pyarelal she had a long 35 year association singing over 700 songs. Some of her major hits include songs for movies like Parasmani in 1963, Mr. X in Bombay (1964), Aaye Din Bahar ke (1966), Milan (1967), Shagrid (1968), Itequam(1969) and Do Raaste(1969). She got her 3rd Filmfare Award for the song "Tumhin Meri Mandir" from the movie Khandan (1965) and for the song Aaap Mujhe Achhe Lagne Lage for the 1969 film Jeene Ki Raah 7 for which she received her 4th Filmfare Award.
She also got honored with the Filmfare Lifetime Achievement award in 1993 followed by a Filmfare Special award for Didi Tera Devar Deewana from the movie Hum Apke Hain Kaun (1994). Her popularity chart saw an upswing with Meena Kumari's last film Pakeezah (1972)with songs like Chalte Chalte and Inhi Logon Ne composed by Ghulam Mohammed. Then came numbers like Rangeela Re from the 1970 movie Prem Pujari, and Khillte Hain Gul Yahaan from Sharmeele and Piya Bina from the 1973 film Abhimmaan all composed by SD Burman. With Music Director Madan Mohan her songs for the films like Dastak (1970), Heer Raanjha(1970), Hindustan Ki Kasam (1973), Mausam(1975) and Laila Majnu (1975) were also quite popular.
Her Bollywood hit songs included compositions from RD Burman in movies like Caravan (1971), Kati Patang (1971), Amar Prem (1972), and Aandhi (1975). From the 1970s, Lata toured India and abroad and her first concert overseas was at Royal Albert hall, London in 1974. Another major hit song was the title track of movie Satyam Shivam Sundaram of Raj Kapoor in 1978.
1980s Onwards
The 1980's saw Lata work with music directors like Shiv-Hari in the 1981 film Silsila, Fassle (1985), Vijay (1986) and Chandni (1989). She also collaborated with Ram Laxman in the films Ustadi Ustad Se (1981), Bezubaan (1982), Woh jo Hasina (1983), Yeh Kaisa Farz (1985) and Maine Pyar Kiya (1989) which was a great musical hit. In 1985, Lata toured Maple Gardens on invitation from United Way of Greater Toronto and raised $150,000 towards charity.
By 1990's she recorded with music directors like Anand-Milind, Nadeem-Shravan, Dilip Sen-Sameer Sen, Uttam Singh, Anu Malik and AR Rahman. She also recorded some ghazals with Jagjit Singh while singing with other greats like SP Balasubrahmanyam, Udit Narayan, Hariharan, Kumar Sanu, Suresh Wadkar, Mohammmed Aziz, Abhijeet, Roop Kumar Rathod, Vinod Rathod, Gurdas Maan and Sonu Nigam.
In 1990, she also launched her own production house for Hindi movies that saw the production of the movie Lekin in 1991. Here she recorded several songs like Kesariya Baalma, Suniyo ji Ek Araj and Ja Ja Re, the last of which was with her brother Hridaynath Mangeskkar. She received her National film award for the song Yaara Seeli Seeli in this film.
From the 1990's onwards she sang most songs for Yash Chopra films like Lahmhe (1991) Darr, Yeh Dillagi (1994), Dilwale Dulhania Le Jayange (1995), Dil To Pagal Hai (1997), Mohabbatein (2000), Mujshe Dosti Karoge! (2002) and Veer Zara (2004). In the same period she recorded for Ram Laxman in films Patthar Ke Phool (1991), 100 Days (1991) Mehboob Mere Mehboob (1992), Dil Ki Baazi (1993), Antim Nyay (1993), The Law (1994), Hum Aapke Hain Kaun (2002), Megha (1996), Lav Kush (1997), Manchala (1999) and Dulhan Banoo Main Teri (1999).
During the same period A.R. Rahman recorded a few songs with Lata which included Jiya Jale (from Dil se), Khamoshiyan Gunganane Lagin (One 2 Ka 4), Ek Tu Hi Bharosa (Pukar; where she also made her first film appearance ), Pyaara Sa Gaon (Zubeidaa), So Gaye Hain (Zaubeidaa), Lukka Chuppi (Rang De Basanti) and O Paalanhaare in the film Lagaan.
In 1994, she released an album entitled Shraddanjali – My Tribute to the Immortals in which she sang songs of KL Saigal, Rafi, Hemant Kumar, Mukesh, Pankaj Mullick, Kishore Kumar, Geeta Dutt, Zorabai, Amirbai, Parul Ghosh and Kanan Devi in her own voice. In 1994, she also sang Rahul Dev Burman's last song Kuch Na Kaho for the movie 1942- A Love Story. In 1999, she launched her own perfume brand called Lata Eu de Parfum. In the same year, she was nominated as member for the Rajya Sabha, which she neither attended regularly nor drew her salary, allowances or took up a house for being a Member of Parliament. In 2001, she was awarded the Bharat Ratna, India's highest civilian award. That year, she established the Master Deenanath Mangeshkar Hospital in Pune, managed by the Lata Mangeshkar Medical Foundation. In 2005, she designed a jewellery collection called Swaranjali from which five pieces were auctioned at Christie's for £ 105,000 and part of the money was donated for Kashmir Earthquake Relief Fund.
In 2005, she sang Kaise Piya Se Main Kahoon for composer Nadeem- Shravan in the movie Bewafaa and Kitne Ajeeb Rishte Hain Yahan Par for the movie Page 3.
In 2007, she released an album called Saadgi, which featured ghazals by Javed Akhtar. In 2011, she released another album called Sarhadien: Music Beyond Boundaries which had a rare duet Tera Milna Bara Acha Lage by Lata and Mehdi Hasan that was written by Farhat Shazad. Again, in 2011, Shamir Tandon recorded a song with Lata called Tere Hasney say aati hai mujh ko Hassi for the film Satrangee Parachute. In 2012, Lata Mangeshkar launched her own Music label, LM Music featuring Bhajans along with her sister Usha.
National Film Awards
Lata won the National Film Award for Best Female Playback singer in 1973 for the song Beeti Na Bitai composed by RD Burman for the film Parichay. Her second National Film Award came for the song Roothe Roothe Piya composed by Kalayanji Anandji for the 1975 film Kora Kagaz. Her third National Film Award was for the song Yaara Seeli Seeli in the 1991 film Lekin.
Her Multilingual Talents
Her multi lingual talents came to the fore when she sang many Marathi songs directed by Hridaynath Mangeshkar, Vasant Prabhu, Srinivas Kale and Sudhir Phalke and herself under the pseudonym of Anandghan. From 1960s to 70's she also sang several Bengali songs composed by directors like Hemant Kumar and Salil Choudhary. Her song Bellane Belagayithu in the 1967 Kannada film Krantiveera Belagayithu was well received. Her only Malayalam film song Kadali Chenkadali for the 1974 film Nellu, was also a Salil Chowdhury composition.
Trivia about Lata Mangeshkar
1. After winning 4 Filmfare Best Female Playback Awards, she took a very modest decision in 1969 when she proclaimed to not accept any more Filmfare Awards for the sake of promoting fresh talent.
2. Her family's last name used to be Hardikar, but her father Deenanath changed it to Mangeshkar to identify with his native town Mangeshi in Goa.
3. Deenanath had a first wife called Narmada who had borne him a daughter called Lata who survived for nine months.
4. She loved bicycling but never owned a bicycle.
5. Her first car was a Hillman for Rs 8000/- Now she drives a Mercedes gifted by Yash Chopra
6. She is a Bond movie fan and her favorite English movie was the King and I, which she saw 16 times
7. Her favourite Hindi movies include Trishul, Madhumati, Dilwale Dulhania Le Jayeenge, Sholay ,and Seeta Aur Geeta. She has seen Kismet over 50 times!
8. She never liked make-up and lights and broke down when her hair and eyebrows were trimmed for the film Pahli Mangalagaur.
9. She was allowed to sing only KL Saigal songs at home, while her father only preferred classical songs.
10. She brought her first radio at the age of 18, and when she turned it on the first thing she heard was the announcement of KL Saigal's death. She returned the radio after that.
11. In her early days, she had to use a stool to sing at the same height of Hemant Kumar's Microphone.
12. In 1962, she fell severely ill and medical reports revealed that her cook, who fled without collecting his pay, was slow poisoning her.
13. She loves to eat spicy food with lots of chillies, she used to eat raw chillies, 12 at a time.
14. She likes listening to Mozart, Beethoven, Tchaikovsky, Chopin, Nat King Cole and The Beatles.
15. While traveling to Bombay Talkies one day by train, Kishore Kumar got on to her compartment at Mahalaxmi station and then hired a Taanga. She thought he was following her! But on that same day they sang their first duet 'Ye kaun aaya re karke solah singar' for the movie Ziddi (1948).
16. She is self-taught and learned the alphabets from her domestic help.
17. She was close to Nargis and Meena Kumari. She liked their ghagras and saris and often visited Nargis at home. She had been fond of Nimmi, Sulochana, Waheeda Rehman and Rekha.
18. She loves photography. Her first camera was a Rolleiflex, brought for Rs 1,200. A dog-lover, she once owned nine pet dogs, much to the chagrin of her mother.
19. She loves to visit Los Angeles, where she spends time playing the slot machine and drinking Coca Cola.
20. She loves diamonds and emeralds. She got her first diamond ring in 1947 for Rs 700. She designed it herself. Although not too fond of gold, she wears gold payals.
21. Being a perfectionist, she rehearses two months prior to a concert. If a musician makes a mistake, she smiles and says "It happens. Carry on."
22. Lata felt terribly hurt once when Dilip Kumar said "Is she Maharashtrian? Their Urdu pronunciation isn't correct and in their singing you can smell daalbhaat". After this she started learning Urdu.
23. She never met K L Saigal and never sang for Dilip Kumar, these are her 2 unfulfilled desires.
24. Lata Mangeshkar's song Wada Na Tod is in the Hollywood film Eternal Sunshine of the Spotless Mind (2004) soundtrack. The movie stars Jim Carey and Kate Winslet.