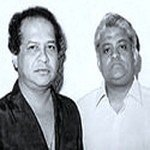 Laxmikant - Pyarelal
Music Director ∙ 7,826 Followers
Introduction
ver since Laxmikant- Pyarelal were nominated for Filmfare for creating the music of the song 'Bindiya Chamkegi' in the 1969 hit movie Do Raste, there was no looking back for this legendary composer, music director cum orchestrator duo. In their career span stretching from 1963 to 1998, they composed music for about 635 movies, working with prominent film-makers. Some of their compositions like Darde Dil, Hansta Hua Noorani Chehra, and Jumma Chumma are still hummed by today's youngsters. Who can forget their evergreen soundtracks like Jhoot Bole Kauva Kate, and Main Shayar To Nahin from the film Bobby?
Laxmikant Shantaram Kudalkar Intoduction
Laxmikant Shantaram Kudalkar was said to be named Laxmikant by his parents, as he was born on the day of Laxmi Puja. The childhood years of Laxmikant were spent in abject poverty in the slums of Vile Parle (East) in Mumbai. Laxmikant's father died when he was still young, so he was unable to continue his education. A musician friend of Laxmikant's father advised Laxmikant and his elder brother to pursue music as a career. Soon Laxmikant learned to play the mandolin under the tutelage of eminent mandolin player Hussain Ali, while his brother learned the tabla. In the beginning, Laxmikant organized and performed in Indian classical music concerts to earn money. By 1940, Laxmikant fine-tuned his mandolin playing with Bal Mukund Indorker and learned the violin from Husnlal of Husnlal Bhagatram fame. In his early days, Laxmikant began his film career as a child actor in the film Aankhen, as well as some Gujarati films.
Pyarelal Ramprasad Sharma Introduction
Pyarelal Ramprasad Sharma learned the basics of music from his father, the popular trumpeter Pandit Ramprasad Sharma (also called Babaji). From an early age of eight, Pyarelal practiced the violin for 8 to 12 hours a day. He furthered his violin learning from a Goan musician called Anthony Gonsalves. In fact, the song My Name Is Anthony Gonsalves from the 1977 movie Amar Akbar Anthony was a tribute to Mr. Gonsalves, who incidentally also taught RD Burman. As his family's financial situation declined, Pyarelal started to earn money for his family when he was ten years old by playing the violin in studios like Ranjit Studios.
Rise Of The Composer Duo
Laxmikant had impressed Lata Mangeshkar with his violin playing during a concert at Radio Club, Colaba, when he was just ten years of age. He then met Pyarelal at Sureel Kala Kendra, a music academy for children run by the Mangeshkar family. Similar age, passions and financial situations brought them closer as they played and practiced for long hours at the studios. Lata soon came to know about their poverty-stricken backgrounds and recommended their names to music directors like SD Burman, Naushad and C Ramachandra. Pyarelal would often visit the Bombay Chamber Orchestra and the Paranjoti Academy to fine-tune his skills in the company of other music legends like Goody Seervai, Coomi Wadia, Mehli Mehta and Zubin Mehta. The duo were unhappy with the payments made to them and moved to Madras (now Chennai), but met with same story there, and had to return. Pyarelal wanted to move on to Vienna to play for symphony orchestras like Zubin Mehta, but was restrained by Laxmikant from doing so. Some of the duo's colleagues in this phase of their life included celebrated Santoor player Pandit Shiv Kumar Sharma and flautist Pandit Hari Prasad Chaurasia who had ventured into Bollywood as Shiv–Hari. Soon, Laxmikant –Pyarelal worked with most of the music directors of that era, in the 1950s. By 1953, they had become assistants to Kalyanji- Anandji until 1963, and then moved onto to become music arrangers for SD Burman in the 1964 film Ziddi, and even RD Burman's first film Chhote Nawab. The year 1966 saw the duo's rise to fame with the first musical hit films Aye Din Bahar Ke and Pyar kiye Jaa. The latter film featured the number O Meri Maina by Manna Dey and Usha Mangeshkar. Previously, Laxmikant-Pyarelal had made other hit compositions with songs like Tum Gagan Ke Chandrama Ho and Jeevan Dor Tumhi Sang Bandhi from the 1964 film Sati Savitri. By 1967, the duo in their Golden jubilee year consolidated their name with hits with the theme song for the film Anita and various compositions for the film Shagird. Their most remembered evergreen hit musical for their golden jubilee year was of course the movie Milan for which they received their second Filmfare Award. Although by now the duo had started giving music independently, they remained good friends with RD Burman. The duo also won their first Filmfare Award for the 1964 film Dosti8, wherein RD Burman played the mouth organ for all the songs. Later on, Laxmikant made a guest appearance as himself for the song Dil Ki Baat in the 1982 movie Teri Kasam, in which RD was the music composer.
Association With Leading Singers
Mohammed Rafi is said to have started the duo's career with the 1967 movie Chhaila Babu. Rafi is said to have sung the song free and blessed the duo saying that may this duo work together till their last breath. The duo paid their respects to him by providing the music for the 1981 movie Aas Paas, dedicated to the late Mohammed Rafi and featured his last song Tu Kahin Aas Paas Hai Dost. Of course, Lata Mangeshkar played a leading role in shaping the duo's career by singing the maximum number of songs for them, which numbered about 700 songs. Some of the famous songs included Sawan Ka Mahina from the film Milan (1967), Bindiya Chamkegi from Do Raste (1969) and Yashoda Ka Nandlala from the 1985 film Sanjog. Some of the songs were classics and chart slammers while others remain connoisseur choices. The duo also produced some memorable songs by Kishore Kumar, which included Mere Mehboob Qayamat Hogi from the Film Mr. X in Bombay (1964), Sultana Sultana Tu Na Ghabrana, Yeh Dard Bhara Afsana from Shreeman Funtoosh (1965), Aap Ke Anurodh Pe from Anurodh (1977), Ruk Jana Nahi from Imtihaan (1974) and Om Shanti Om from Karz (1980). Karz also had another hit number by Kishore Kumar called Ek Haseena Thi among the many hit songs produced by Laxmikant -Pyarelal. Besides these singers, the duo also worked with Mukesh for songs like Sawan Ka Mahina in the movie Milan, and Talat Mahmood for whom they specially composed Mohabbat ki Kahaniyan in 1971 for the film Woh Din Yaad Karo. Among other singers they worked with Asha Bhosle, Manna Dey, Mahendra Kapoor, Alka Yagnik, Udit Narayan and Anuradha Paudwal just to name a few. After Laxmikant passed away in 1998, Pyarelal was once quoted remembering his late partner saying that no one could even begin to understand the bond between them, as it was much closer than brothers. In March 2012, Pyarelal composed and arranged a unique experiment in front of a 5000 strong audience in Dubai, called Absolute India, which was conducted by Kristjan Jarvi, Permanent Guest Conductor of the London Philharmonic Orchestra. Pyarelal says he has learnt a lot from his father to his guru Anthony Gonsalves, and that there is no end to learning of musical knowledge.
Recognitions
The soundtrack from the 1973 film Bobby for which the Laxmikant-Pyarelal provided music has been rated by Planet Bollywood as the 17th best ever on their "100 Greatest Bollywood Soundtracks" list. Other soundtracks made by the duo on the list include: • Amar Akbar Anthony (25), • Roti Kapda Aur Makaan (27), • Dosti (32), • Hero (36), • Ek Duuje Ke Liye (44), • Karz (50), • Ram Lakhan (59), • Kranti (61), • Tezaab (65), • Do Raaste (74), • Milan (75), • Khalnayak (77), • Prem Rog (85).
Awards
Filmfare Award for Best Music Director • Dosti (1965) • Milan (1968) • Jeene Ki Raah (1970) • Amar Akbar Anthony (1978) • Satyam Shivam Sundaram (1979) • Sargam (1980) • Karz (1981)
Top 10 Hit Songs
1. Sawan Ka Mahina- Milan 2. Chup Gaye Sare Nazare- Do Raaste 3. Aate Jate Khoobsurat Awara- Anurodh 4. Ham Bane Tum Bane- Ek Duje Ke Liye 5. Lambi Judaai- Hero 6. Dream Girl- Dream Girl 7. Woh Jab Yaad Aaye- Parasmani 8. Yeh Reshmi Zulfen- Do Raaste 9. Ab Aan Milo Sajna- Aan Milo Sajna 10. Ruk Jana Nahin - Imtihan