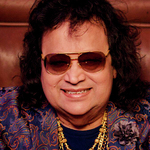 Bappi Lahiri
Music Director ∙ 14,374 Followers
Introduction
Bappi Lahiri is a composer, music director, producer and performer, and is proficient in playing the tabla, drums, piano and saxophone. His fitness level as a music director which enabled him to set a record of recording 180 songs for 33 films in 1986 has found mention in the Guinness Book of world Records. He is popularly called the Disco King, as he was a pioneer in introducing electronic disco music to the Hindi film industry.
Early Life
Bappi Lahiri was born into a family well versed in classical music. His father, Aparesh Lahiri was a well-known Bengali singer while his mother, Bansari Lahiri was a musician, trained in classical, and Shyama Sangeet singing. His maternal relatives were from the legendary singer Kishore Kumar and S. Mukherjee family side. Bappi's parents trained him in music from an early age and by the age of three; he learned to play the tabla. Bappi married Chitrani, who also comes from a family of singers and so music flows in their lineage as his daughter Rema is a great singer, while his son Bappa is also musically blessed, and currently a music director in Bollywood. Bappi Lahiri is known for his East-west blend of clothing: Kurtas, sherwanis, sweatshirts and blazers and of course, his trademark gold ornaments and sunglasses.
Entry to Bollywood
Bappi moved to Mumbai at the age of 19. Although he got his first opportunity in the Bengali Film Daadu (1972), his first opening to compose for a Hindi film was Nanha Shikari in 1973. He came into prominence from the Hindi movie Zakhmee in 1975. In this film, he not only composed the music but also doubled as a playback singer. One of his notable numbers includes a duet with Mohammed Rafi and Kishore Kumar called Nothing is Impossible. His next hit numbers came in the 1976 film Chalte Chalte. Next he sang and gave disco music for films like Pyara Dushman (1980) and Arman (1981) with hit numbers like Hari Om Hari and Ramba Ho Sambha Ho respectively. His song Jimmy Jimmy was a smash hit in the early 80's not only in India, but in Russia too. His other famous hit numbers in 1981 were for movies like Wardat, Sahhas, and Laparwah. Some of the famous films wherein he provided music were Kasam Paida Karne Wale Ki (1984), Dance Dance (1987), Commando (1988), Love Love Love (1989), and Pyar Ke Naam Qurban (1990). Soon after, he became synonymous with the disco culture pervading that era.
His Many Firsts
Bappi was the first Music Director who was invited by Jonathon Ross of ITV, London for a live performance on BBC London in 1989. He became the first Indian music director to present a film on rock dancing entitled Rock Dancer. He also became the first to bring rock sensation Samantha Fox to India and dance with Govinda in the film Rock Dancer. He was also invited by Michael Jackson for a Live Show in Mumbai in 1996 at the Municipal Stadium in Andheri. The response was stupendous and Michael Jackson complimented Bappi Lahiri saying "I love your song Jimmy Jimmy". Bappi Lahiri has been awarded over 100 Platinum Discs and Golden Discs for his musical score in over 500 films in various Indian languages. Bappi Lahiri is the first Asian pop singer to appear in the 1st International Dance Chart song in Europe for the album called Habiba in 1988. In the album, Bappi Lahiri and his daughter Rema Lahiri sang the songs. Later, in 1990, he released his own private English album entitled Snake dance.
His Music Company
On November 27, 1994, Bappi launched his own music company BL Sound with several CDs like Ala Li La, Jungle Boy, Super Rema, Purono Jeans, Bappi's Bollywood Mix Hungama, followed by Hum Hai Khalnayak, Saajan Ke Liye and Chaddanzali Amar Maa. Next was his 8 song compilation Get on the Dance Floor. In 2001, Superstar Jackie Chan released Bappi's album Festival of Lights in London. By 2003, Senator Edward M Kennedy released Bappi's album Bikram's Lounge in the USA. In the same year his album Bappiwood Remix released through Serious Music USA drew a good response. Some of his later albums include a musical album with MC Hammer called Will To Live, which featured singers like Sharon Prabhakar, Asha Bhosle, Kumar Sanu, and Reema Lahiri among others. The CD was later released in 2011. The year 2004 saw Bappi release Bappi Magic – The Asli Baap Mix, which featured popular numbers like Jimmy Jimmy and Gori Hai Kalaiyan. He made his presence felt as a composer by writing the background score for the film Maine Gandhi Ko Nahin Maara in 2005 and then lent his voice in the song Boombai Nagariya for the Vishal-Shekhar movie, Taxi Number 9211 (2006). He also lent his voice to the Mani Ratnam 2007 film Guru for the song Ek Lo Ek Muft along with KS Chitra. The year 2006 saw him co judge the show Sa Re Ga Ma Pa L'il Champs on Zee TV with singers Alka Yagnik and Abhijeet, moving on to judge the 2007 edition of Zee TV's Sa Re Ga Ma Pa and Sony Entertainment Television's K For Kishore reality show. He backtracked in 2010 with his earlier number I am Disco Dancer for the movie Golmal 3, using his own voice. In the same year, he acted in the movie Love.Com… The Ultimate Killing Site, as a singer. The following year, he sang Ooo La La Ooo La La in the movie The Dirty Picture for the Vishal-Shekhar film. In the same year he released his album Walking on Love Street, featuring Shaun Barrows. The album was featured on CMJ's New Music Report Magazine charts, Week World Chart and WONY Oneonta, New York - Top Ten Jazz Playlist. Bappi then acted as Disco King DK in the 2012 film It's Rocking: Dard-E- Disco, produced by Dhumketu Punatar. Just after returning from the West Coast Tour, Bappi Lahiri released two albums at Yamashiro Restaurant, Hollywood Los Angeles in August 2014. The full length album Bappi Lounge features numbers like East Meets West and Indian Palace, the latter features Bappi singing and playing the tabla. The other EP "God Is One", features songs like; We Are One, has Indian gospel singers singing about love and unity. Bappi Lahiri and his son Bappa Lahiri, wrote and co-produced both albums.
Awards
Filmfare Award for Best Music Director for the Movie Sharaabi (1984) China Award for the film Disco Dancer in 1982 Bappi Lahiri was also awarded by India's then President Giani Zail Singh for the best musical score in the film "Thanedaar" 1990
Top 10 Hit Songs
1. Tune Maari Entriyaan – Gunday (2014) 2. Ooh La La - The Dirty Picture (2011) 3. Yaad Aa Raha Hai - Disco Dancer (1982) 4. Bhadak Uthi Hai Dil Men - Do Hawaldar (1979) 5. Jeena Bhi Kya Jeena Hai – Saboot (1980) 6. I Am A Disco Dancer – Disco Dancer (1982) 7. Jawani Janeman - Namak Halaal (1982) 8. O Lal Dupatte Wali – Aankhen (1993) 9. Jimmy Jimmy Jimmy Aaja– Disco Dancer (1982) 10. Tamma Tamma Loge – Thanedaar (1990)